Orchard Mason Bees
Background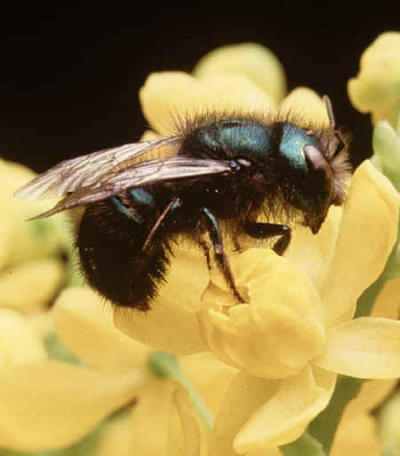 The Mason Bee
Mason bees are solitary bees grouped with the Genus Osmia (Panzer). Solitary means that each female nests without the cooperation of other female bees. She chooses a nest, provisions the nest and produces the young by herself. It is small to moderate, about the size of a honey bee. They are black or metallic blue-green, sometimes brilliant. While they are common in western North America, they are rare in deserts, moderately common in east North America, and uncommon in Mexico. There are about 135 species of mason bees.
Life Stages Through the Year
In winter, adult bees remain inside their cocoons. In the spring, adult bees chew their way out. Mason bees usually emerge between late February and May. Mason bees begin mating in spring and immediately start building their nest for next year. The adult female bee begins laying larvae, then begins to spin a cocoon. The larvae grow and change into pupas, and then eventually in the summer they develop into an adult bee inside the cocoon. Both male and female Mason bees stay in their cocoon during the fall and winter, until the warmth of next year's spring.
Getting Started with Mason Bees
Nest and Nest Placement
Make or buy a nest. Make sure the nesting holes are at least 5-6" deep (5-6" straws or drilled holes; the hole diameter should be 5/16", no larger no smaller). This ensures that the correct proportion of males and females are produced. Shorter nesting tunnels produce abundant males and fewer females.
Place the nest in the sun, out of the wind and rain. An east (preferred) or south facing wall of your house or shed works well.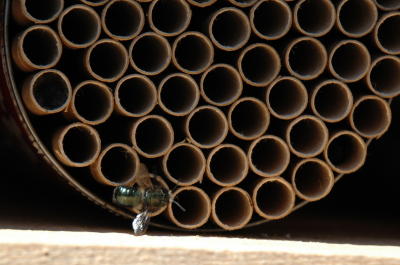 Collecting Mason Bees
We typically have Mason Bees in stock in the winter before the onset of spring. We sell 4 tubes for $14.99 dollars (36-40 cocoons). Each tube holds about 8-10 bees.
Set out nesting units in early spring (when day time highs are consistently 55 degrees) and wait for the bees to emerge.
Provide continuous blooming flowers in your garden. This will ensure lots of offspring for next year and improved pollination.
Mason bees build their nests with mud. Provide a mud source by digging a hole into the mineral soil of your garden, close to the nesting area. Create several rough areas along the walls of the hole and bees will use the rough areas to begin excavating mud for their nests.
By September, clean out Mason Bee nests and inspect cocoons. Store cocoons in a cool place until the end of February-Mid March. Then, take outside and place them in a sunny location, preferably on the east side of your house or fence.
Nest Boxes Available at Our Store All Year Long
Pre-drilled wooden nesting boxes.
Wooden houses with plastic nesting tubes that come apart for easy cleaning.
Wooden houses with wooden nesting tubes that come apart for easy cleaning.
Cardboard inserts with paper liners with several options for weather protection.